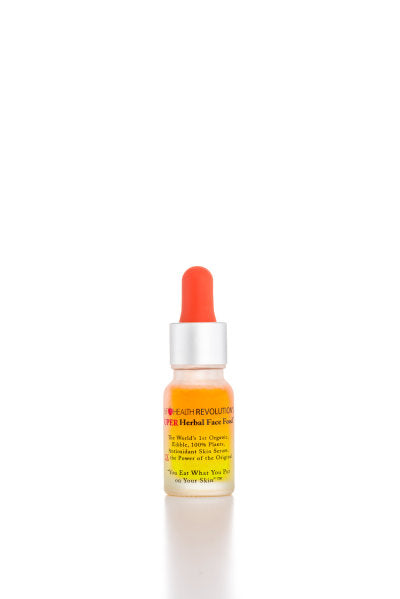 Super Herbal Face Food™
$ 37.97
Enjoy Your Favorite Anti-oxidizing Serum in a New Size!
Super Herbal Face Food™ now comes in a 1 oz. bottle. Super Herbal Face Food™ has twice the strength, twice the plant-based power and twice the results as our original Herbal Face Food™ serum. Much like the original formula, this skin serum combats the most common signs of aging by harnessing the anti-oxidizing power of wild-crafted, plant based ingredients to provide your skin with the nourishment it craves.*Results may vary.
* Due to the strength of the Super Herbal Face Food™ formula, we recommend using the original formula for at least 1-3 months before beginning using Super Herbal Face Food™.
Ingredients: Aloe Vera, Jojoba, Lavender/Orig. France, Oregano/ Orig. Morocco, Clove Bud/ Orig. Indonesia, Thyme/Orig. South Africa, Myrrh/Orig. Somalia, Jasmine Oil, Vetiver, Ylang-Ylang Oil, Patchouli, Sandalwood, Cardamom Seed, Mandarin Orange, Lemon.
"Images may not reflect color of actual product. Each batch is handmade and bottled, color variants are to be expected*
Allergy Disclaimer: Please thoroughly read ingredient list before purchasing any of our products as they contain 100% plant concentrates. We recommend those with plant allergies or an allergy to any ingredient to avoid use. 
Made in the U.S.A.